Catnip & Valerian Root Blend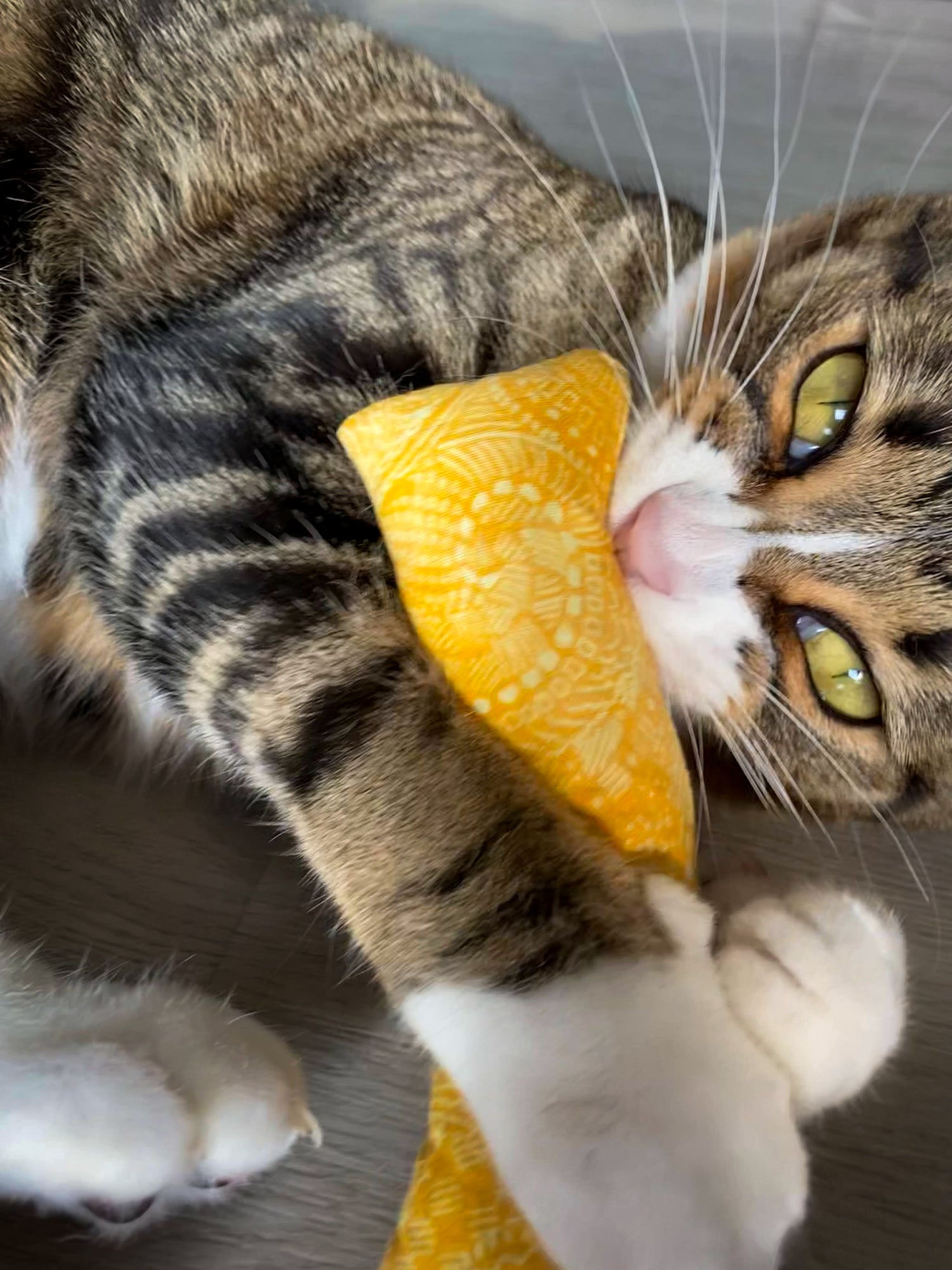 Cats LOVE our Catnip Blend
Did you know?
1/3 of cats do not react to catnip
Female cats are most likely to not respond to catnip
The ability to react to catnip has a genetic component
Catnip alternatives are: valerian root, honeysuckle, and silvervine.
Shop Catnip Products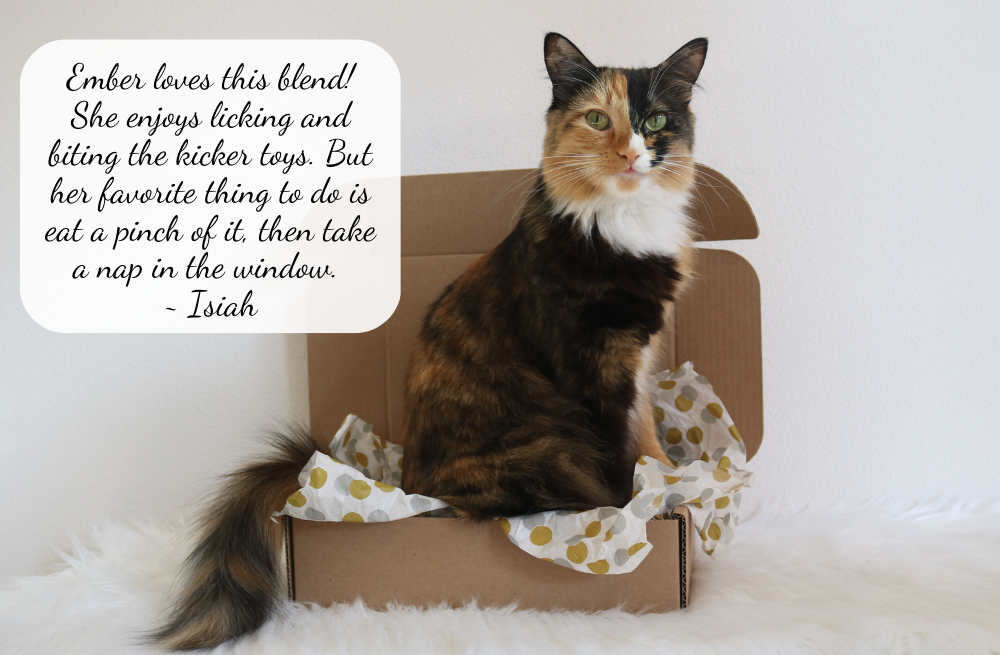 Ember, Empress of the Household
Ember is our sassy female kitty that we adopted in 2019, and she is a great example of a cat that lacks the enthusiasm for catnip. She was the CATalyst in our search for alternatives. 
Our Catnip and Valerian Root Blend
We use a blend of fresh, organic catnip and valerian root in all our cat toys. It makes the best of both worlds for catnip lovers and those that need an alternative.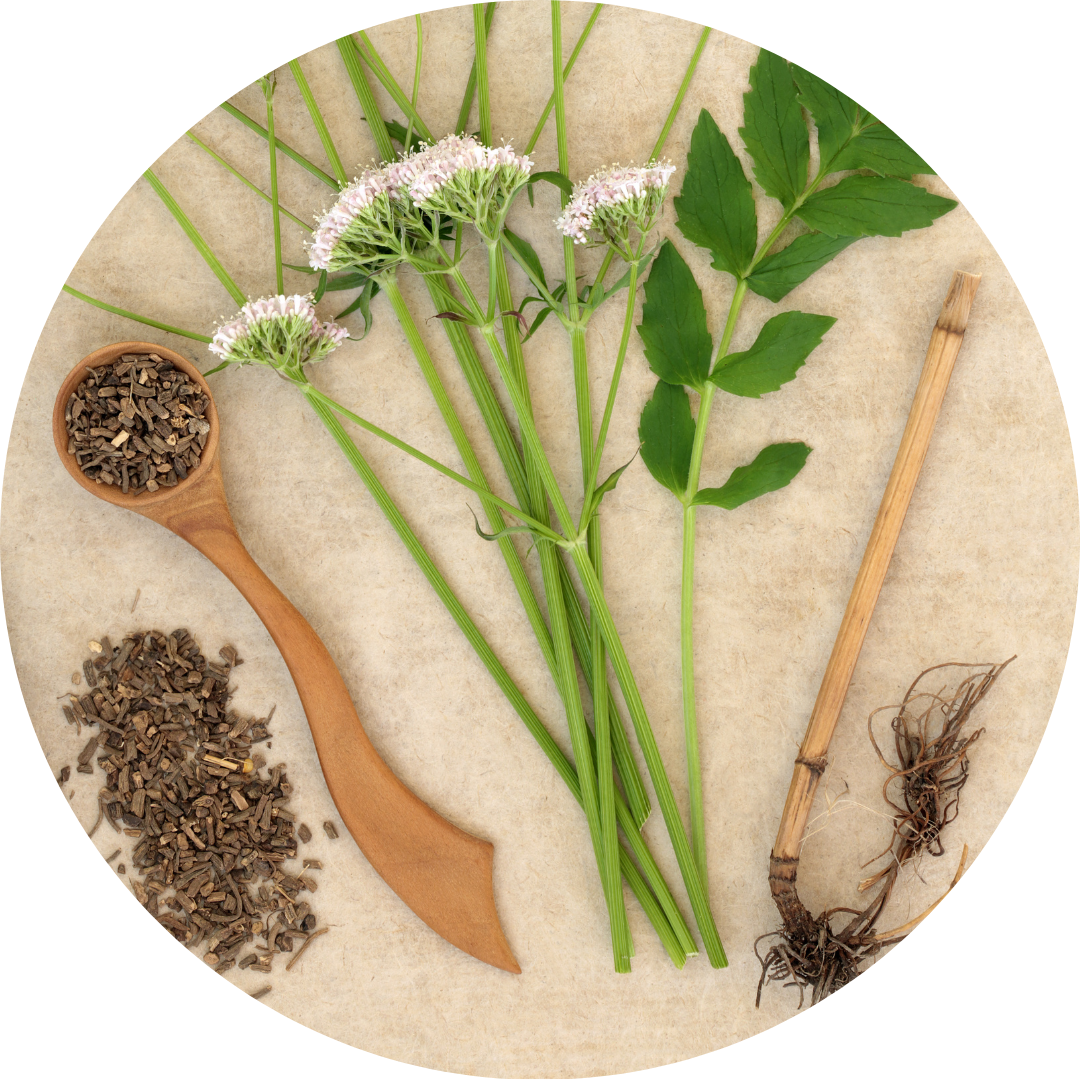 Valerian root acts similarly to that of catnip when inhaled. Both induce a stimulated response and kitten-like playfulness. Although, valerian root tends to elicit a stronger reaction, with longer lasting effects.
Learn More on Our Blog
Sourcing Our Catnip Blend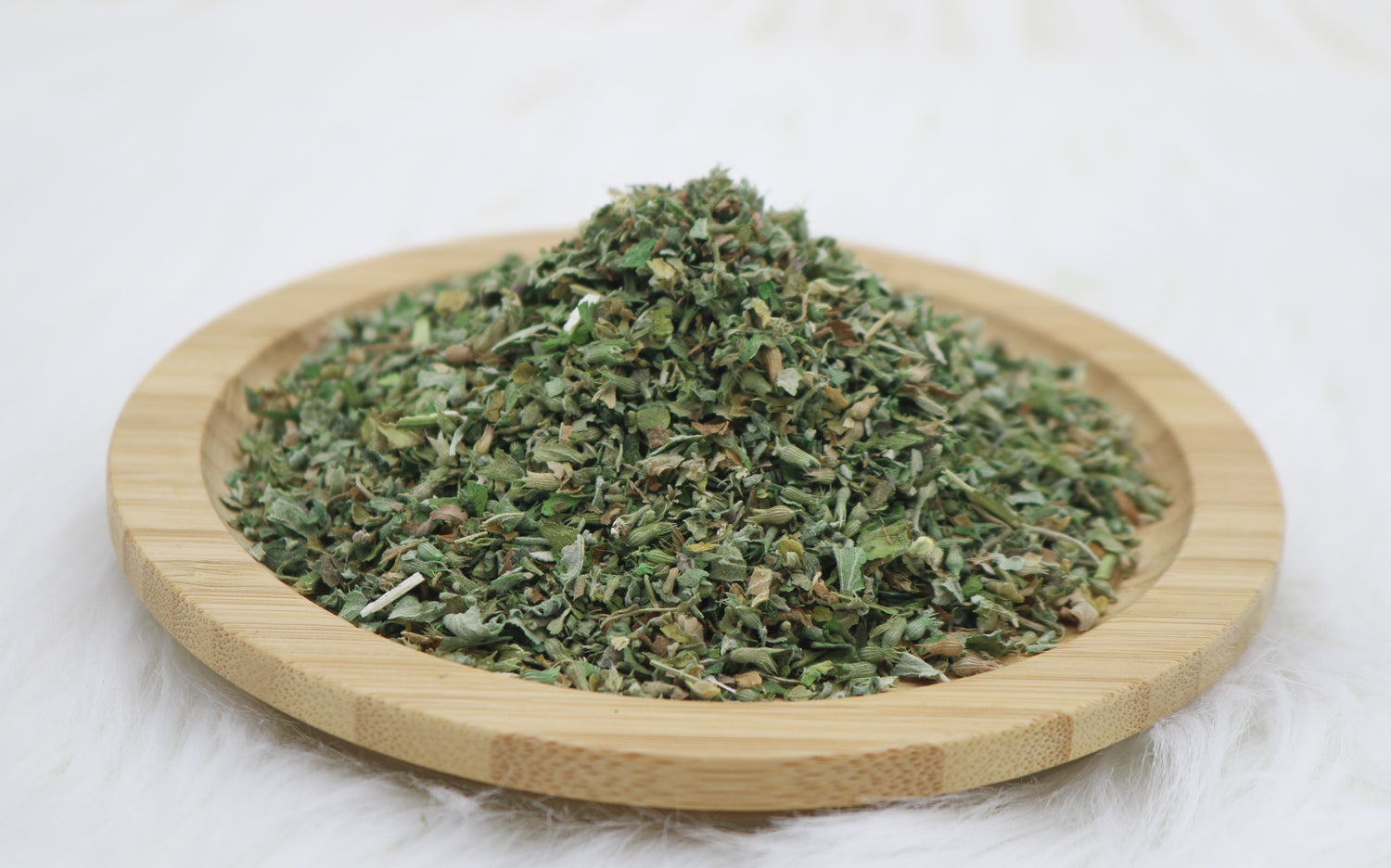 Does your catnip look this fresh?
We work with a local farm in Washington State, From the Field, that grows, harvests, and blends their various cat friendly herbs.
Uniquely, they allow their plants to reach full maturity before harvested, making their herbs more potent than other companies.
Shop Catnip Blend
Freshness you can See and Smell
Each box of nip we receive is not only potent (our cat Ember loves this), but has a fresh, green hue. Unlike other companies that sell through their old, brown dried out catnip, From the Field, focuses on offering catnip that is less than a year old. 
From the Field not only provides exquisite cat friendly herbs, they also focus on environmentally friendly practices, that aligns with our mission of providing the best pet products, while focusing on sustainable practices and working with other small businesses.
Shop our Catnip and Valerian Root Toys
Effects of Valerian Root

Acts as a stimulate when inhaled by cats
Acts as a calmative when ingested by cats (commonly found in human sleepy time teas)
Cats that are not effected by catnip, often are excited by valerian root
Smell is often described as smelly socks (which is why we mix with catnip, so the humans don't smell the valerian root) 
Response to valerian root can last up to half and hour!

Effects of Catnip

About 2/3 of cats have the genetic component to react to catnip
Response to catnip tends to last 5 - 10 minutes
After exposure it takes about 2 hours for the cat to be able to be stimulated by catnip again
Learn more Blog: Catnip Facts and Substitutes
Customer Reviews
"I get the kickers for my mom's cat who doesn't seem to like regular catnip toys, but *LOVES* this blend!"
~ Amanda P.
Purrfect Pillow for Nala

"Our cats love the blend! The large kicker is their favorite toy and pillow! We have six of them."
~Maggie M.

Refillable Mats are a Hit!

"I super love the mat! It has a padded lining, plus Velcro opening with two drawstring pouches inside filled with their very own potent catnip blend!
I love the refillable concept and bought their catnip blend to refill when needed!"

~ IG @6cheekytails

Long Lasting Fun!

"The best catnip in the world! Even after months it gives us intense moments of happiness!"

~ IG @luluhv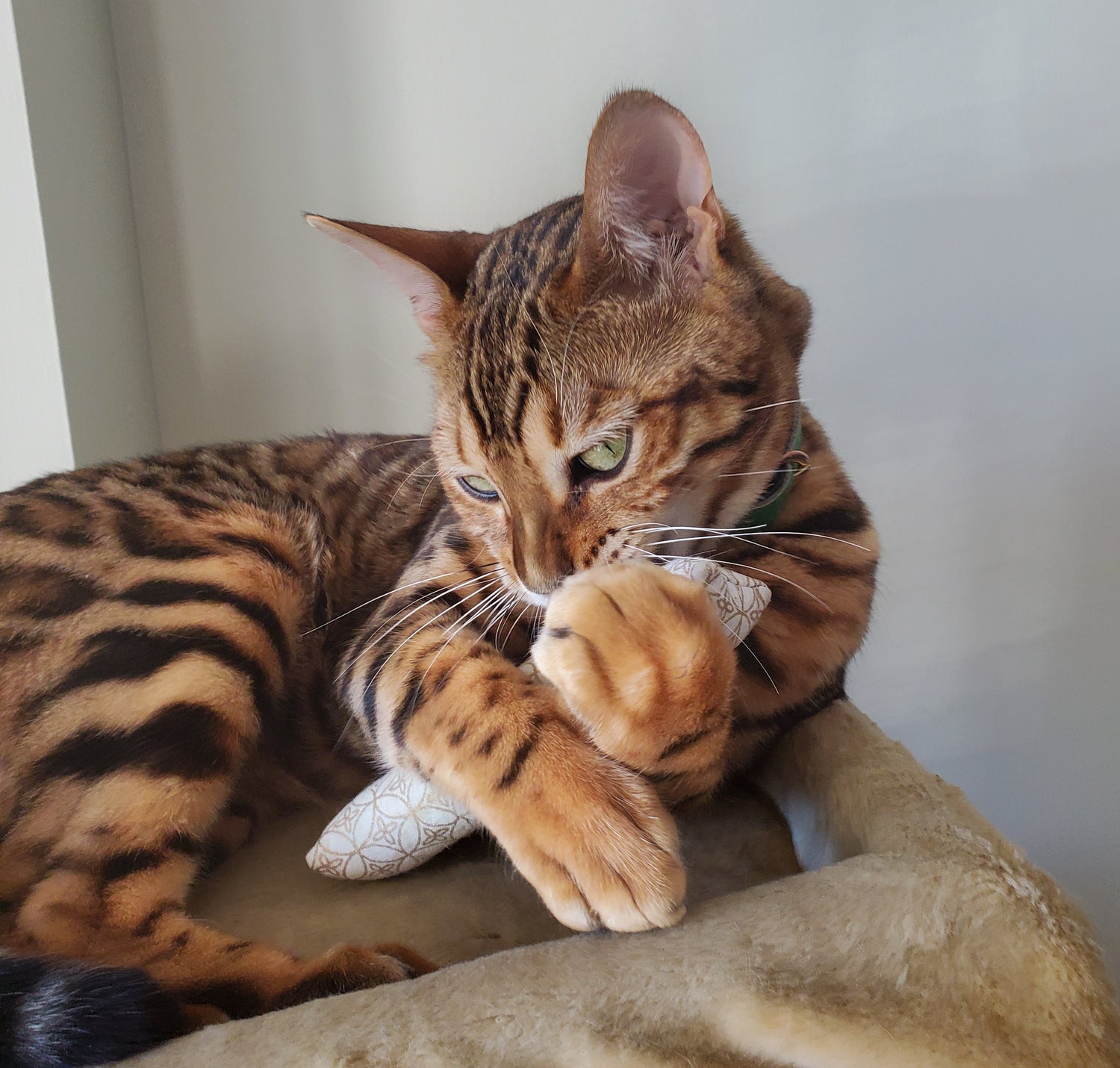 Don't just take our word!